Is The Full Frame Mirrorless System Really Smaller and Lighter?
FStopLounge.com is a participant in the Amazon Services LLC Associates Program, an affiliate advertising program designed to provide a means for website owners to earn advertising fees by advertising and linking to amazon.com, audible.com, and any other website that may be affiliated with Amazon Service LLC Associates Program.
At no additional cost to you, we will earn a commission if you decide to make a purchase after clicking through our affiliate link(s). Please use your own judgment to determine if any program, product or service presented here is appropriate for you.
For those of us considering the jump to "full-frame" digital photography, we face the option of buying a "mirrorless" camera instead of a DSLR. The internet keeps telling us "mirrorless are smaller and lighter which is much better". But when it comes to full-frame shooting…. is a mirrorless system really smaller and lighter?

 There's no doubt a mirrorless camera body is smaller and lighter than its DSLR equivalent.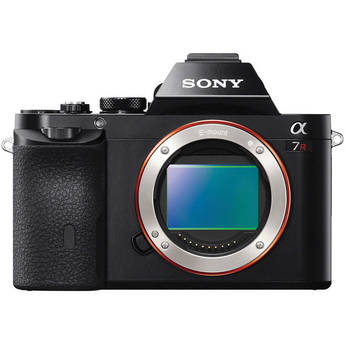 For example, the Sony A7R weighs less than half a Nikon D810 and the Sony A7II takes up about half as much space in the camera bag than a Canon 5D MK III. If we only want a smaller and lighter full-frame camera body, we'd definitely go for the mirrorless camera. But this is only part of the story.

 What about the lenses?
Many hobbyists carry around one main camera and several lenses. That's the beauty of interchangeable lens cameras, right? So, with multiple lenses and only one camera body, we'd better take close notice of the size and weight of the gear.
The internet often tells us that lenses for full-frame mirrorless cameras are smaller and lighter than the DSLR equivalents. Is this true?
To check this out, I compared all Sony's E-mount full-frame (ie. FE) lenses with the equivalent Nikon and Canon DSLR lenses. I chose Sony, Nikon and Canon because they're the most popular options people consider when thinking of "going full-frame" and I didn't want to over-complicating the analysis with too many cameras.
---
Full-frame lens comparisons
With the recent announcement of four new lenses, Sony currently provides eleven full-frame lenses for its mirrorless system.
As it turns out, only three Sony lenses have exact Canon and Nikon equivalents, in terms of focal length and aperture. These are the 16-35mm f/4, the 35mm f/1.4 and the 70-200mm f/4. A fourth lens, Sony's 55mm f/1.8 lens, is also a very similar combination to the very popular "nifty fifty" (ie. 50mm f/1.8) lenses by Canon and Nikon. 

Thankfully, all these lenses provide a good range of focal lengths to compare sizes and weight
Size comparison
What is the size difference of the four lenses?
To compare, I looked at the space (ie. volume) taken up by each lens. This, of course, accounts for the lenses' lengths and diameters. It therefore gives us an idea of how much room each lens will take up in a camera bag, as well as its bulk when you're out shooting.
The comparison shows us that the Sony mirrorless 16-35mm lens is definitely smaller than the Nikon and Canon equivalents. So far, the internet is right – full-frame mirrorless lenses can be smaller and lighter!

 But the Sony mirrorless "nifty fifty" equivalent lens is much larger than the Nikon and Canon equivalents. In fact, Sony's "nifty fifty" equivalent is almost double the size of Nikon's.
As well as having the largest "nifty fifty" lens, Sony mirrorless also has the largest 70-200mm lens and the largest 35mm lens compared to the DSLR lenses.
Three of the four Sony lenses are the largest, so maybe the internet is wrong after all?
---
Weight
Unsurprisingly, the weight comparisons closely match the size comparisons:
Sony's 16-35mm wide-angle lens is the lightest of the comparison wide-angles. But, if weight matters most, we'd buy Canon lenses for all the others. Sony's "nifty fifty" equivalent is over double the weight of Canon's and 80% heavier than Nikon's. The scales seem to be tipping back against the mirrorless lenses!
---
Comparing the other available Sony lenses


Sony attached its logo onto eleven full-frame mirrorless lenses, but we've only compared four. What about the other lens options?
The 90mm macro lens
Sony's new mirrorless macro lens, the 90mm f/2.8, does not have an exact equivalent Nikon or Canon macro lens. Nikon and Canon both, however, produce macro lenses with somewhat similar specifications to Sony's newly announced macro lens. Here is a size comparison of the similar available macro lenses:
The Sony mirrorless macro lens is not smaller than the equivalent Nikon and Canons. The Sony 90mm f/2.8 macro lens is actually the same size as the largest compared DSLR lens, the Nikon 105mm f/2.8 (which also has about 15% more reach). The Canon macro lenses are smaller than the Sony macro, despite the fact they have about 10% more reach.
So the Sony mirrorless macro lens does not provide a size advantage compared to any of the similar DSLR lenses.
Weight comparisons give similar results to size outcomes:
Once again, the Sony lens does not seem to provide a weight advantage. The weight of Sony's macro lens is similar to Canon's. Predictably, Sony's macro lens weighs more than the lower-specced Nikon lens and less than the higher-specced Nikon lens. So, overall the Sony mirrorless macro lens provides no real weight advantage over similar DSLR lenses.
The 24-70 mid-range zoom lens
One of the remaining Sony lens options, the 24-70mm f/4, does have a Canon equivalent but not a Nikon equivalent (because Nikon's version is f/2.8). This mid-range zoom lens is a very popular focal length in many people's kit, so it is handy to be able to compare it here, too:
So, for the mid-range zoom at least, Sony is lighter and smaller than the Canon equivalent.
And the remaining Sony lenses…
Nikon and Canon also make lenses of similar focal lengths to the remaining Sony full-frame mirrorless lenses, but their specifications are too different to make a fair comparison. Often this is because the aperture sizes are different. These lenses, with the equivalent Canon and Nikon offerings, are:-
Sony 35mm f/2.8
– Canon has f/1.4 and f/2 versions
– Nikon has f/1.4, f/1.8 and f/2 versions
Sony 28-135 f/4
– Canon has an f/3.5-5.6 version
– Nikon has a 24-120 f/4 model
Sony 28-70 f/3.5-5.6
– Canon has a 24-70 in f/2.8 and f/4 versions
– Nikon has a 24-70 f/2.8 model
Sony 28mm f/2
– Canon has an f/1.8 version
– Nikon has an f/2.8 version
Sony 24-240mm f/3.5-6.3
– Canon has a 28-300 f/3.5-5.6 model
– Nikon also has a 28-300 f/3.5-5.6 model
From all this, we see that often Canon and/or Nikon have faster (ie. smaller f-number = larger aperture) equivalent lenses compared to similar Sony lenses. Generally Canon and Nikon lenses also tend to have a greater breadth of focal lengths compared to Sony, for the zoom lenses that have slightly different focal lengths.
So, although Nikon and Canon have similar lenses to Sony's, their different aperture and/or focal lengths mean their specifications are not close enough to make a fair comparison of their sizes and weights.
Worse apertures for comparable lenses may result in smaller and lighter lenses.
 So, purchasing Sony's lenses may result in weight and size gains simply because their lenses often have inferior maximum apertures compared to the DSLR lenses. This is a trade-off we would need to consider when choosing which system to purchase.
---
---
Cost
In this article, we're mainly checking the size and weight comparisons. Of course, cost is another important factor and it is easy to compare:
Although not presented on a cost-comparison graph here, the Sony 90mm macro lens is the only macro lens that costs more than $1,000. All the other macro lenses we looked at, including the Nikon 105mm f/2.8 and the Canon 100mm f/2.8L were cheaper than the Sony 90mm f/2.8 macro.
Ultimately the cost analysis is simple. These Sony lenses all cost more than the Nikon and Canons.
Hopefully Sony increases its sales volumes to bring about better economy-of-scale benefits, which could reduce Sony's lens prices over time.
---
Quality
Quality is another important factor to consider when deciding what lens to purchase. Which lenses have the highest quality?
For example, we would hope that the Sony 55mm f/1.8 is substantially better than the Nikon or Canon 50mm f/1.8 lenses, because it is nearly ten times the price and about double the size and weight. Is Sony's "nifty fifty" equivalent really that much better?
Unfortunately, a full answer about lens quality is way too complicated to squeeze into this article. Websites like dpreview and DXO Mark go into great detail to test lenses and there's no one factor to determine lens quality anyway.
One factor about lens quality does arise from this analysis though. Remember the lenses we didn't end up comparing in detail in all brands? A main reason we couldn't compare them is because Canon and Nikon's lenses tended to have larger maximum apertures (ie. smaller f numbers) than the Sony lenses. Canon and Nikon both manufacture wide-angle, mid-range prime and telephoto zooms with larger maximum apertures than Sony does, too.
Larger aperture lenses are arguably desirable due to the higher quality images they can produce. We could therefore possibly expect the Canon and Nikon versions of these lenses to be of higher quality than Sony's. But again, a full analysis of lens quality is best found in other places on the net, so this thought is a guide only.
---
What about a complete kit?
We've seen that mirrorless cameras are smaller and lighter, but the lenses are often larger and heavier. So what is the size, weight and cost of a total kit? We can use the information we already have to compare the size, weight and cost of a possible Sony, Nikon and Canon full frame setup.
Our sample camera kit will include each manufacturer's latest full-frame twenty-something-megapixel camera. We will add a wide-angle zoom, a fast 35mm prime, a nifty fifty and a telephoto lens. Quite a comprehensive setup! Here's our product selection from each manufacturer's offerings:
The totals for each kit are:
The Sony mirrorless kit saves about 15% of the space of both the Nikon and Canon kits and is about 5% lighter. So, with this kit at least, Sony mirrorless is both smaller and lighter than the Nikon and Canon DSLR kits.
Interestingly, it is the small mirrorless camera body that accounts for the difference in size and weight. The Sony lenses in our kit actually took up more space than the Nikon and the Canon lenses. The Sony lenses also weighed about 10% more than the Canon lenses and weighed about the same as the Nikon lenses.

 The cheaper mirrorless camera body somewhat minimises the cost difference, too. The Sony lenses in our kit actually cost about 35% more than both the Canon and Nikon lenses. But the Sony mirrorless camera body was cheaper than the DSLRs, bringing the total Sony kit cost back to about 20% higher than Nikon and Canon's kits.
---
Conclusion
Are lenses for full-frame mirrorless cameras smaller and lighter than their DSLR equivalents?
No.
But they are for two of Sony's eleven lenses. It really depends lens to lens, just as it always did when, in the past, we compared any camera brands of any type.
Depending on which lenses we choose, the size and weight advantage of the Sony mirrorless camera body may result in a lighter kit overall. Our sample kit had us carrying about 15% less volume in our bag with Sony mirrorless, and about 5% less weight compared to the DSLR kits. This was due to the lighter mirrorless body, compared to DSLR bodies. So, once again, the total possible gains or losses depend on which lenses we choose.
Although lens quality wasn't compared here, we also noticed the difference in lens apertures between the brands. Nikon and Canon tend to offer faster (ie. lower F-number) lenses for similar focal length lenses, although there are a couple of exceptions. This may mean that the full-frame Nikon and Canon lenses are more desirable in terms of quality, given one possible measure of lens quality is its maximum aperture. This may also mean that some Sony lenses may be smaller and lighter because lenses with inferior maximum apertures tend to be smaller and lighter than their higher-specced cousins.
This study also highlights the cost issue. The Sony's full-frame mirrorless lenses we compared in detail were all more expensive than their Nikon and Canon equivalents. The complete Sony kit cost about 20% more than the Canon and Nikon kits, but the Sony lenses in the kit cost about 35% more than the DSLR lenses. Of course, good deals can be had around the place, so the higher cost will not always hold true on a given day for a given product.
Finally, as always, purchasing a camera or camera system is about many factors that are personal to each of us. But our purchasing decisions can only be helped by knowing the facts, rather than the myths, about mirrorless and DSLR lenses for full-frame cameras.
---
Disclaimer and other details
Statistics gleaned for this article, including prices, were obtained from B&H Photo and the manufacturer's websites.
This article relates to full-frame (ie. 35mm width) camera sensors only. It does not necessarily apply to crop-factor (ie. APS-C) sensor cameras or any other type of camera system. The article is intended for the use of hobbyist photographers who are not sure whether lenses for full-frame mirrorless cameras will be smaller or lighter than equivalent DSLR lenses. After reading this article, you can now be sure!
Any reference to "mirrorless lens" or similar means "a lens designed to be attached to a mirrorless camera". Strictly, the cameras are known as "mirrorless", not the lenses.
Note that brands other than Sony, Nikon and Canon also offer full-frame camera lenses and systems. Readers are encouraged to check out the available options in other brands to determine the best system for them.
The full model names of the lenses compared in this article are:
Sony
Sony Vario-Tessar T* FE 16-35mm f/4 ZA OSS
Sony Vario-Tessar T* FE 24-70mm f/4 ZA OSS
Sony FE 24-240mm f/3.5-6.3 OSS
Sony FE 28mm f/2
Sony FE 28-70mm f/3.5-5.6 OSS
Sony FE PZ 28-135mm f/4 G OSS
Sony Distagon T* FE 35mm f/1.4 ZA
Sony Sonnar T* FE 35mm f/2.8 ZA
Sony Sonnar T* FE 55mm f/1.8 ZA
Sony FE 70-200mm f/4.0 G OSS
Sony FE 90mm f/2.8 Macro G OSS
Nikon
Nikon AF-S NIKKOR 16-35mm f/4G ED VR
Nikon AF-S NIKKOR 35mm f/1.4G
Nikon AF NIKKOR 50mm f/1.8D
Nikon AF-S NIKKOR 70-200mm f/4G ED VR
Nikon AF-S Micro-NIKKOR 60mm f/2.8G ED
Nikon AF-S VR Micro-NIKKOR 105mm f/2.8G IF-ED
Canon
Canon EF 16-35mm f/4L IS USM
Canon EF 24-70mm f/4L IS USM
Canon EF 35mm f/1.4L USM
Canon EF 50mm f/1.8 II
Canon EF 70-200mm f/4L IS USM
Canon EF 100mm f/2.8L Macro IS USM
Canon EF 100mm f/2.8 Macro USM